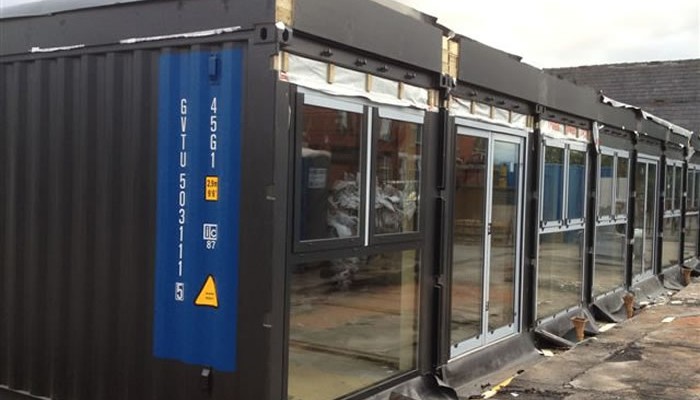 Container Conversions
Containercare specialises in shipping container conversions and modifications for new and used containers to meet your requirements and the design & manufacture of bespoke storage and accommodation units
The possibilities and variations are virtually limitless
Shipping Container Conversions are extremely varied as shipping containers with their strong construction lend themselves to many different – and often bespoke – container conversions. Containercare specialises in designing solutions that meet your specific application. All work is performed in-house, including fabrication, painting, electrical, and finishing at our new depot in Liverpool.
Plumbing, glass frontage, partition walls, hatches, railing, ladders, shelving, internal bulkheads and air conditioning are just some of the container conversions and modifications we have done recently for clients such as, ABP Associated British Ports, A Plant, Asda, Balfour Beatty, BFNL British nuclear fuels, Transco, Redrow, Marks + Spencer, IKO plc, Bam Nutall and Tarmac Ltd.
In fact most things are possible so don't be afraid to ask, but if it cant be converted from a standard shipping container we'll design and manufacture a solution from scratch, take a look at our portfolio of shipping container conversions and manufacture.
Design and Manufacture
At Containercare we realise the importance of offering our customers a high quality design and development service prior to any fabrication taking place. We take a detailed brief of your requirements before producing CAD drawings for your approval prior to manufacture.
Once we start the fabrication of your project our skilled workforce and strict quality control procedures ensure that your project is delivered on time and on budget.
Sustainable Shipping Container Homes and offices
Why not use shipping containers for something else?. Why not build a shelter, a canteen, office or house or even a whole neighbourhood? We really don't know who were the first that had the idea of utilising shipping containers for accommodation, but what we do know is that Containercare can pretty much solve any storage or accommodation issue you may have.
Right now, being readily available, strong and secure, shipping container are ideal for office and workspace, live, work and worker housing.
Containers don't even have to look like containers! It is a relatively simple matter to completely clad the building externally in a huge variety of facades. The benefits of Container Homes or Offices can truly be seen in short and medium term land use projects. Short-life sites can have Container Houses or offices that simply unbolt and are relocated or stored when land is required again. To date this alternative method of construction has successfully created youth centres, classrooms, office space, changing rooms, canteens, artists studios, live / work space and retail space and much much more.
Have you got a question for us about converting a container? Click here to fill in our online Form.
Or telephone one of our team on: +44 (0) 151 427 1771