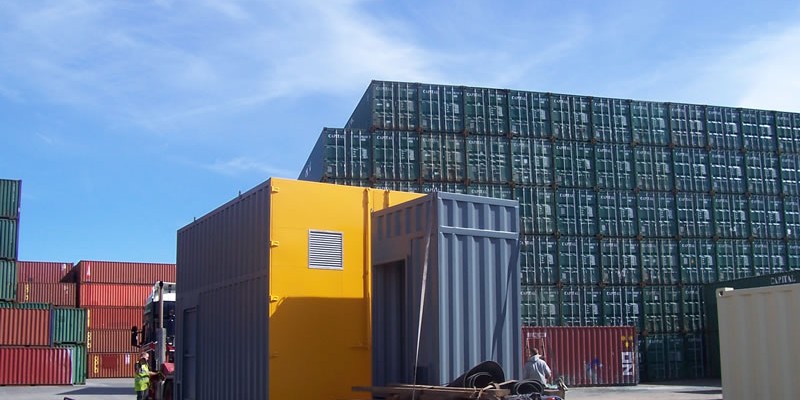 Containers for sale
A large part of our business is shipping container sales, we stock a variety of new, refurbished and used containers to fit all your storage requirements.
Who Are We?
We are a high volume container depot, providing new and used shipping containers for sale and hire, direct from the depot. And because you can buy direct we can usually undercut most of the container brokers you find online.
What types of containers can I buy?
Recycle and reclaim is the name of the game these days, even within shipping, so as well as new shipping containers, we also provide refurbished and used storage containers if requested. Whether they're open topped, refrigerated, dry cargo, high cubes or flat-racks, if you want it, we'll have it. And we can deliver them nationwide.
What size can I buy
While the usual configurations of shipping containers fall under the 10 ft, 20 ft and 40 ft sizes, we often modify and convert these. Whatever you need. All our used containers have been re-conditioned so they're fit for storage purposes.
What other options are there?
A shipping container doesn't have to be an empty space. We regularly customise containers into mobile workshops, toilets, on-site offices, or any other specialist storage units. Chemical stores work particularly well in shipping containers. Our specialist team can add doors, windows, partitions, plumbing, and even electricity if required.
How do you decide on the price of your shipping containers for sale?
Prices go up and down, depending on the import and export trade flows through the Port of Liverpool. The pricing is also dependent on whether your container needs specialist conversion or if we have one 'off the shelf'.
For buying or hiring shipping containers, new or used, we quote the best possible price based on:
What the equipment is, its age and its condition
What we have in the depot at the time of asking
The global market conditions for containers; and The quantity ordered.
Whatever we quote is direct from the depot, so your money won't be diverted to any middle men.
How do I get a quote?
For more information and a quote on your requirements, please contact Ian Morris in our Container Sales Department on +44 (0) 151 427 1771. or fill in the quick quote form on this page.
How easy is it to have containers delivered?
Very easy. Containercare Ltd uses only reliable, national, independent haulage companies, so we pride ourselves on delivering your shipping containers anywhere in the country at the time and date that you specify. Even if it's today.
All companies we work with operate under the Road Haulage Association Ltd Conditions of Carriage, and are fully insured with Goods in Transit insurance.
Because we put safety first, all Hiab crane drivers working with us are City and Guild CITB trained, working strictly in accordance with the Health and Safety at Work Act 1974. Additionally, risk assessments and method statements are carried out on all contracted vehicles.